Today's question, from Facebook: any fun ways of teaching por vs para? This is a classic question, much like how do I teach ser vs estar?
For those not teaching Spanish, these words can be translated as "for."
So how should we teach por and para?
First, we do not make a list of their similarities and differences, and we do not  make a list of usage rules for kids to memorise.  Why? Because even if kids do something totally boring and dumb, like memorising grammar rules, not even the best of them– in real time speech or writing– will be able to remember and apply the rule.  There isn't enough time in real time.
Imagine having to memorise and then remember this!  😦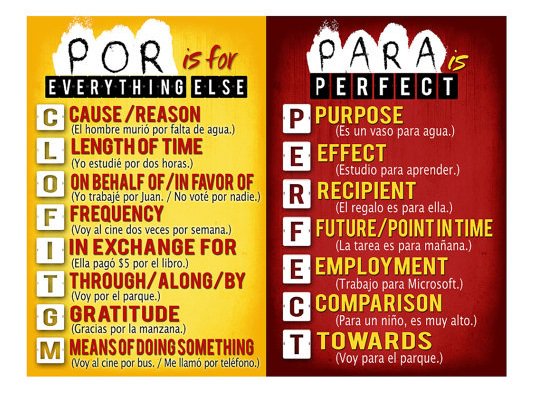 Second, we do not make a "unit" around por and para. The textbook "unit" around a grammar concept, verb tense, topical vocab set etc is a bad idea: it will artificially narrow and limit language: John buys a blouse for Suzie.  He buys it in order for her to like him.  He pays $20 for it. He passes by Nordstrom on his way home from buying the blouse for Suzie.  He wonders, "did I pay too much for that blouse?" You can see how limiting this is.
Third, we start using them, from Day 1, appropriately, in context.  A perfectly good sentence for a beginning story comes from Blaine Ray: el gato quería un iPhone para comunicarse con otros gatos ("the cat wanted an iPhone in order to communicate with other cats"). In any quest story, we can have a character try to buy something:
¿por cuánto salen?      ("how much do they go for?")                                                                      — salen tres por veinte ("three go for twenty")
Fourth, when we do translate, we avoid using the word "for" (which will be confusing). Instead, we translate each "use type" of por and para with context (and usage-) specific words.  So we write
le da veinte por tres he gives her twenty [pesos] for three [of those]
es para su madre it is meant for his mother
fue por la calle she went through the street
aprendió por escuchar he learned by listening
por ahí close by
se perdió por haber dormido she got lost because of having slept
te amo para siempre I'll love you forever
(This is much like ser and estar.  We don't translate them as "to be (+ a bunch of rules)".  Rather, we translate them as "to be" for ser, and "to feel" or "to be located in" for estar.)
Finally, we don't obsess about it. The gringo who ends up in a Mexican market saying le doy veinticinco para dos sounds foreign to a Mexican, but also perfectly comprehensible.  This is the equivalent of a Mexican saying why you don't have no oranges? to a Canadian Safeway employee.  The Mexican's not having acquired any yet has zero impact on how comprehensible she is to a Canadian.